Episodes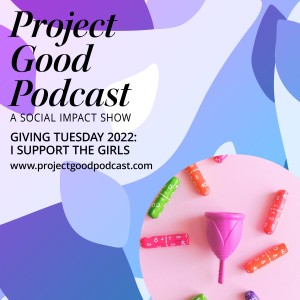 Wednesday Nov 02, 2022
Wednesday Nov 02, 2022
Over 22 million women in the United States and millions abroad cannot afford or lack access to menstrual hygiene products making functioning during menstruation difficult. During this last year, headlines about a tampon shortage started appearing in early summer 2022, when The Wall Street Journal reported that 7% of tampons were out of stock nationwide. Across the U.S., shoppers looking for their preferred brand, or any brand at all, were greeted with empty store shelves. Along with shortages, prices of pads and tampons have risen along with the cost of everything else, making it expensive to have a period. In this episode we host this vital conversation with our Giving Tuesday organization I Support The Girls.
Topics discussed in this episode:
-War in Ukraine [7:33]
-Essential Needs for Women [10:42]
-The Covid Effect [13:16]
-Period Poverty [17:28]
-Women's Value in Society [20:47]
-Diverse Groups of Women [28:15]
- Best Story [37:07]
Quote:
"There's always these like women in red Lacey bras and they look so happy. I think it would be fun to feel sexy and have that happiness too. Nobody has to know it's there because it's underneath all of my layers of shirts and sweatshirts and hoodies and scarfs and jackets. But I'll know it's there close to my heart, so it'll make me feel good."
Resources mentioned in this episode:
Donate:
Attn: Dana Marlowe
P.O. Box 2736
Wheaton, Maryland 20915
Or you wish to donate at a location please go to https://isupportthegirls.org/get-involved/product-donations/ for additional details.
Connect with us:
- Subscribe to the Project Good Work Blog to read the article version of the interview.
- If you have a passion for an unserved community, a social justice problem or want to change minds contact Project Good Work at www.ProjectGood.Work to start your project of change today.